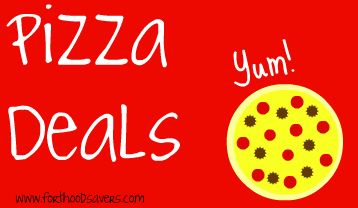 Here is an updated list of Pizza deals for you to enjoy! Please let me know if you find a code I have missed or if a deal goes dead so I can remove it from the list.
***Be sure to sign up for Papa's Rewards so you can earn points towards a free pizza with each order. Make sure you are signed in when ordering so you earn your freebies! (Enter 25PAPA if you have 25 points to redeem).
Don't forget to use your Superbowl code by March 6th!. Code is good for a free 1 topping large pizza and 2 liter Pepsi Max.
Code
pjmpg:
Free large 1 topping pizza (You must have 20 Papa's points in your account for this one)
PEPSI50:
50% off your order. (Regular Menu Price Items only..I did notice it allows you to purchase the specially priced offers that roll on the right sidebar with the discount though--The offers are Breadsticks or Cheesesticks for $4 ($2 after discount), A 2 liter for $2 ($1 after discount), wings for $6 ($3 after discount) or a Cinnapie for $4 (Regular price is $3.99 so I am confused by this one, unless I am missing something special about it. If you Don't see the deal you want add the one showing to your cart until you get all of them and them delete the ones you are not interested in)!
Code 25OFF:
25% off regular priced menu items
2 Large 1 Topping Pizzas and a 2 liter, $20 (on home page)
Large Pizzas are still $11 each any way you want them and they have many online specials
HERE
that may be better than the discounts available right now.
You can also buy a coupon booklet valid through May 1st from one of the units on post. You can contact Ben McCall HERE to get more info, but pick up is on 53rd street (out next to the Sportsman Center) at the end of the road in building 22038. I don't know if other arrangements can be made for pickup, you will have to ask
. Booklets are $5 and contain the following Coupons:
one free large pizza coupon
two buy one, get one free coupons
two buy a large, get bread sticks free
two buy a large, get cheesesticks free
two buy a large, get a two liter of soda for free
(We will only use the free large and the two B1G1 coupons, but even without the others it's worth the price to me)!
$10 dinner box...no coupon needed. Comes with 1 medium 1 topping, 5 breadsticks and 10 cinnamon sticks.
The $10 any Pizza, any toppings deal also still appears to be valid.
Code 3A: 2 medium 2 topping pizzas $5.99 each


Large 3 Topping and wings, $16 (No code go to deals tab)
Code XS: 2 Large 3 Topping Pizzas and wings, $26
Code PB: Add Hershey's Dunkers to any order for only $4


Code DK: Breadsticks or Cinnastix and a 2L for $5
Remember that if you have a ShopRunner membership, your delivery charge is waived at Domino's.
Code HMEBITE
: 2 or More Medium 2-Topping Pizzas for $5.99 each and Get a 16-Piece Order of Parmesan Bread Bites for $1


Code EMTB5VT8: Choose 2 for $5.99 each, medium 2 topping or stuffed cheesy bread
Code 9178
: Artisan Pizzas just $7.99
Code HPN73
: 10" 2 Topping Pizza, Pasta, or Sandwich for $5 each + 20oz Drink for $0.99. Valid until 2pm. Carryout only

Code
SAND83
: $7.99 for any Oven Baked Sandwich, 20 oz Coca-Cola(R) product, and a Bag of Lay's(R) or Doritos chips(R)
Code 9174
: 3-Topping Large Pizza, $9.99 (Monday-Wednesday, carryout only)
Papa Murphy's
Papa Murphy's offers BOGO on Pizza, Sides, Desserts and Drinks for military on Mondays so that would be the best day to order from them. You can get up to 3 free items! This is our favorite place to get pizza. Anybody ever frozen these before? I would love to get the BOGO deal and save it for later :)
You can get the coupons for their
current deals here
.
Little Caesars
Little Caesars offers hot and ready pizzas starting at $5 every day! (Even though the HH store still has the $5.55 sign, they offer the $5--So if your store is advertising $5.55, chances are they have the $5 special.)
You can also grab a coupon for $1.99 Crazy Bread HERE (exp 3/31)
On Tuesdays Little Caesars offers a 1 topping pizza for only $3.99! (Thanks, Amy G.!)
***Call ahead and confirm your store participates...Kristin shared that her store on Clear Creek does not do the $3.99 pizzas. Harker Heights also does not participate so maybe this is just Cove?
I personally test all of these out, but occasionally things change in between when I post and when I update so if you find an invalid code (or deal I have missed) please let me know so I can get it added!
---
Want to get all the deals straight to your inbox?
Sign up here to get posts via email
.